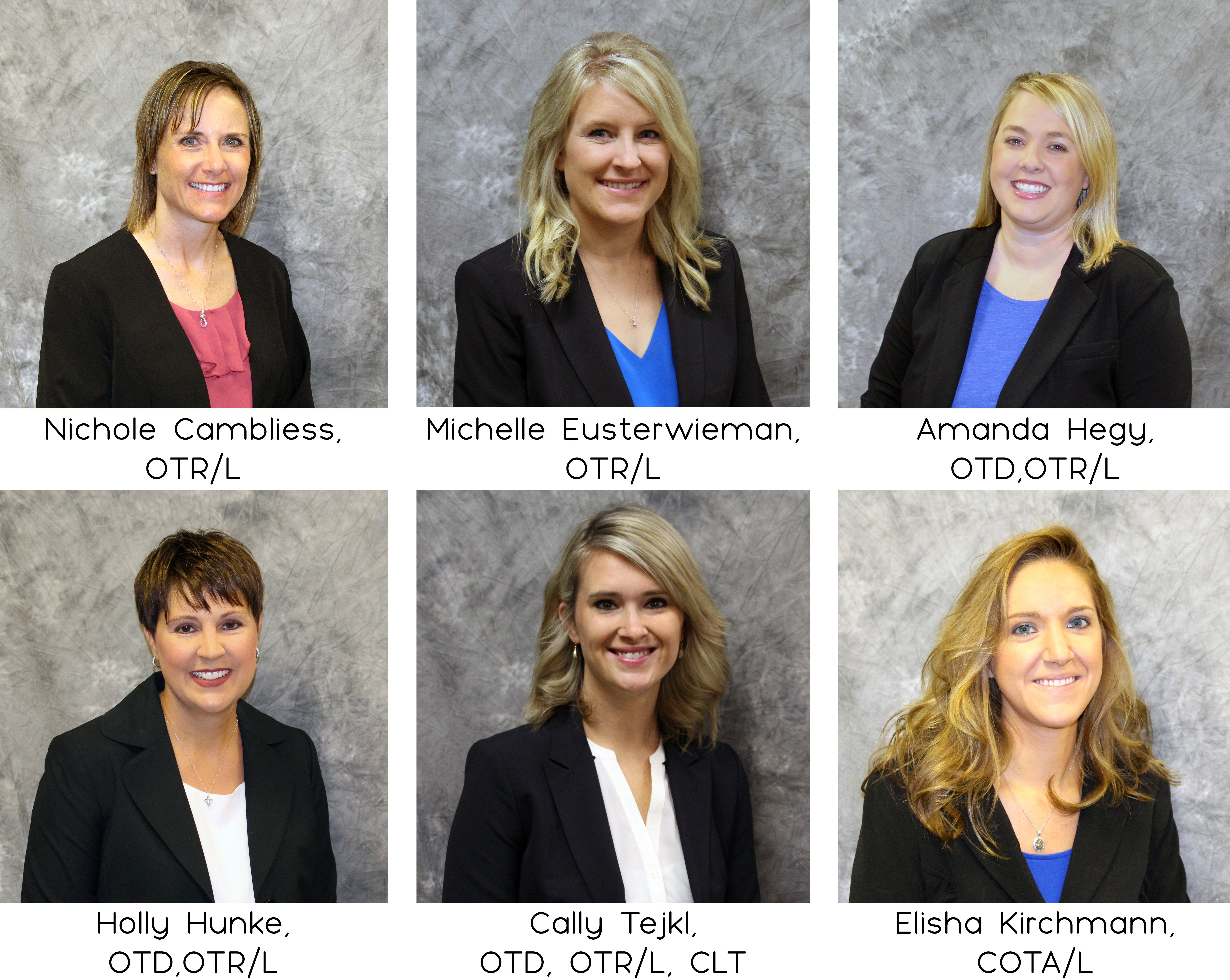 April is Occupational Therapy Awareness month and our occupational therapists (OT) have some fun things planned! Learn a little more about our wonder occupational therapists at Franciscan Care Services.
Nichole Chambliess, OTR/L
Hometown: rural Craig, NE
I have worked at FCS for 19 years.
Why I chose OT: My mom was a nontraditional student and was a year ahead of me in college. She had worked in the school system with an OT and decided that she wanted to return to school to become an OT. That is how I learned about the profession. I was studying psychology and liked all the potential areas that I could work in within the OT field while using creativity to help others achieve their goals. We both ended up graduating from Creighton with OT degrees and have enjoyed being a part of this awesome profession.
Michelle Eusterwieman, OTR/L
Hometown: Howells, NE
I have worked at FCS for 3 ½ years.
Why I chose OT: Growing up, I had always wanted to pursue a career in the medical field and when I saw how much occupational therapy can impact one person's ability to live a healthy and positive quality of life, I knew it was the right path for me. I also love that OT allows me to work in a variety of settings and with all age groups, so each day is always different and fun.
Amanda Hegy, OTD, OTR/L
Hometown: Fremont, NE
I have worked at FCS for 9 years.
Why I chose OT: When I was in undergraduate school, I had a friend who was pursuing occupational therapy. After attending an open house at Creighton and hearing more about the profession, I realized that was what I was supposed to be when I grow up. I like how the profession works with anyone from birth to 100+ and the focus is helping them with their life goals. This could be learning how to hold a bottle, write their name, tie their shoes, put on a shirt or just improve their strength to return home. As an occupational therapist, what I have loved the most is there have never been two days that are the same.
Holly Hunke, OTD, OTR/L
Hometown: West Point, NE
I have worked at FCS for almost 14 years.
Why I chose OT: I wanted to work in a profession that made people's lives better. I love that OT is available in so many settings, all allowing you to become personally involved in assisting people to return to their job, their home or their leisure tasks.
Cally Tejkl, OTD, OTR/L, CLT
Hometown: Oakland, NE
I have worked at FCS for 6 years.
Why I chose OT: I decided to become an occupational therapist because of the true impact you can have in the lives of others through this profession. I worked as a nurses' aid at a nursing home in high school and really fell in love with the geriatric population. I felt that OT was a profession where I could be creative and use everyday activities or occupations to regain lost function to help people improve their quality of life. I continue to work at SFMH because of the amazing rehabilitation team we have that makes it easy to come to work every day.
Elisha Kirchmann, COTA/L
Hometown: Storm Lake, IA
I have worked at FCS for 1 year.
Why I chose OT: I have always known that I really like working with people and helping others. Occupational Therapy seemed like the perfect fit. It is such a rewarding profession when you get to help a patient be able to complete even the basic tasks again like brushing their teeth. Such a simple task can bring so much meaning back to a patient's life. Knowing you were able to help a patient build back up their strength or finding adaptive equipment to complete daily tasks again is such an amazing experience.